As the demand for IT infrastructure grows within your organisation, the likelihood that should a problem arise not only is increased, but productivity could be decreased, or even worse, stopped. Having an IT support agreement with us ensures that your IT infrastructure runs as smoothly as possible maximising your workflow and resources and therefore maximising your profitability.
We specialise in looking after micro-organisations, small and medium sized businesses as well as catering for large organisations, so please do not be put off by expecting high costs. Why have an internal IT department if you don't have to?

At Accelerated Systems our IT support can be provided to you for your exact needs, budgets and expectations. Our IT support is provided by email, telephone, remote dial-in and on-site presence. We know that not every organisation runs the same as the next, so we build a bespoke support package to suit your business model. Why not give us a call to see how much you could be saving by using our services or switching to us? If you do not have an IT support package in place we can take the time and stress of looking after your IT infrastructure enabling you to concentrate on what's most important - the day to day running of your business.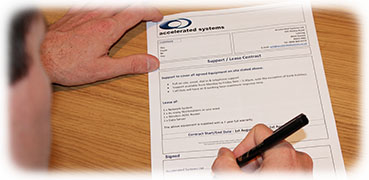 Service Level Agreemets and Facilities Management
For our most comprehensive support package we offer our Service Level Agreement (SLA), where response times are the fastest and guaranteed for mission critical systems. Our Facilities Management services ensures you have a dedicated account manager to help you run your organisation smoothly and have a good understanding of where your IT infrastructure will be heading in the future. Combine this with a lease from us and have not only up-to-date equipment but an exact knowledge of your IT infrastructure costs for peace of mind.