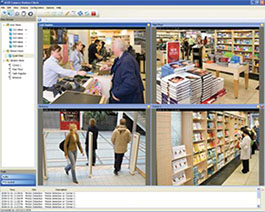 Have you got something valuable to protect? Would you like peace of mind knowing that your organisation is being observed by a silent security guard? Maybe you would like a deterrent or even to lower your insurance premiums? Maybe keep an eye on your staff and make sure they are being as efficient as possible and making use of the allocated office space? Whatever the application, and wherever the location, Accelerated Systems has the security system for your organisation.
We provide Internet Protocol (IP) based security systems which can integrate into your existing computer network. With IP based cameras, it is possible to access the live view and in most instances, view recordings from each camera wherever you are in the world as long as you have Internet access. Your recordings would be digital, and as such can be stored almost anywhere, usually up to 30 days though can also be stored indefinitely on storage devices for archiving. Please see below a diagram explaining how an IP security system works, in this case using Axis equipment.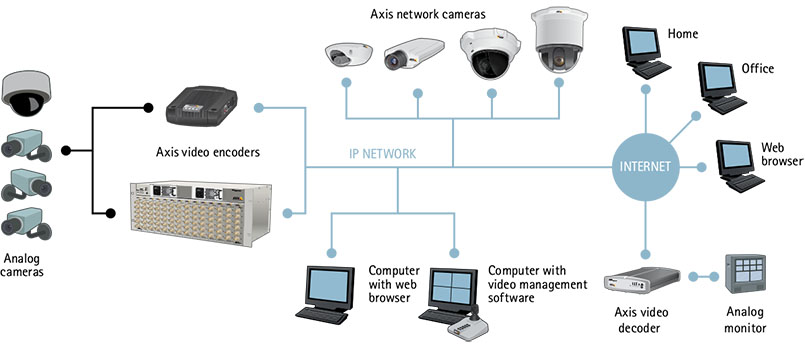 We work hand in hand with the manufacturers of the best and most cost effective systems to bring you a variety of systems that can be put to use in any application. Types of cameras vary from fixed, dome, Pan Tilt and Zoom (PTZ), covert hidden cameras, outdoor, thermal imaging cameras and most come in external and vandal proof variants too. The image quality of the cameras include normal VGA quality (640 x 480 pixels) all the way to full high definition (1920 x 1080 pixels). Almost all support Power over Ethernet (PoE) so you only need 1 cable to the camera that carries the data and power ensuring installation costs are kept to a minimum.